How to Create Free Landing Pages in 2020
In this post I am going to go over how to create a landing page for free in 2020, which you can replicate, using GroovePages 2.0. So this post is for you. If you're looking to discover how to create a landing page for free and wondering what is the best free landing page builder, or even why you should be building landing pages for your business and how to leverage them to improve your marketing and to increase your customer conversions.
So a landing page is a great way to create very tightly focused pages, which help increase your landing page conversions. And many people will look to create landing pages on the website or blog sites, but this is not the most optimized method for this and why this will work. It's not as effective as when you build dedicated landing pages, which you send your visitors to.
They have less distractions and the way you build them, they become more focused. Then you can achieve with a website. So with a website, if you send your visitors to your homepage or another page on your website, they they've always got options to go somewhere else. So that's the purpose of a landing page and hence the term funnel pages come from because you actually funnel them forward in the direction that you want them to go. [00:01:00]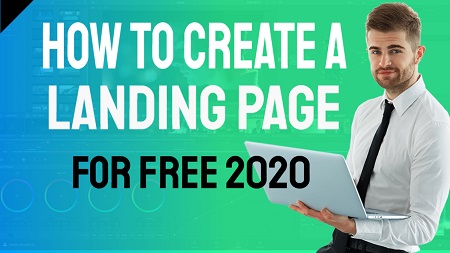 So here we are at the minute within the dashboard of GrooveFunnels and I'm just going to take you into GroovePages. And this is the landing page builder. I recommend you use and you get hold of this for free. So I'll put a link down below if you want to sign up for no credit card required. So you just need to enter a name and an email and you can start using it straight away.
Quality Landing Pages with Groovepages Free Landing Page Builder
So Groove Pages 2.0 in my view is one of the best landing page builders for 2020. And it is available as a free GroovePages Lite version and a paid GroovePages Pro version. And this is because the amount of integration you get with this as a marketing tool is much better than anything else in the market. And also the CEO behind the GroovePages, product and GrooveFunnels, which is the parent, product.
He's been in marketing for over 20 years and he's brought all that marketing insight and he shared that then with the developers. So for the way they're built and they've developed the code within this, and they're actually templates within this. They're so highly sort of optimising themed for marketing and conversions.
There's nothing else really available to compete for this. So if we want to create quick free landing pages, let me just show you now.
Using Landing Page Templates to Build Landing Pages Fast
So, let me just create a new site. [00:02:00] And I'll show you the range of templates. So you can start with a blank page or you can use one of the templates and these templates have been added to now over the past few weeks. So there's a, there's a much bigger range of templates and there's more being added in here every week.
You can see some different, niche, themes, you know, yoga restaurants, eBooks, medical, SEO design, real estate, digital marketing. So. We can select any of these templates and we can edit them so we can re-purpose them. You know, it doesn't matter what they designed for. We can re-purpose these because we can edit these.
Fill in the Blank Landing Page Templates
But the good thing to understand about these is that they're all, sort of the way they're structured. They're sort of like a fill in the blank type of style. So let's have a look at this one. Let's have a look, the video sales letter so we can preview it.
So you can see why landing pages in the optimization. So you can see here now, very little distraction. You got a headline, you got a video and you got a link. And then we have really highly focused free landing pages, we've got some conversion optimization proof here.
And then it's got some additional information. So people who were not attracted by the initial video and it'll take them through and you've got some key areas again here now.
So you can see, you know, a highly themed video landing page or video sales letter. [00:03:00] This term is called. So we got a video and then we got a click to join button.
Let me get some trust signals as seen on. Forbes entrepreneur Fox. Obviously you can edit these. These could be your industry. anything which, enhances the trust signals around your product. This, is what you would use that area for. And then we've got some featured snippet areas, detailing, and a bit more information.
So the people who not attracted by the initial video, a little more information again. So again, there's a good balance within this landing page because some people. are more attracted by video. And some people are more attracted by reading content. And again, you got a bit more trust signals here about the presenter or about you, about yourself, about your business, with your product.
And then we got some testimonial areas. So you can see here now it's very highly marketing themed for conversions, and you've got some further trust signals here now with social media, but all the visitor can do with this page is to watch the video and click one of the links. You know they can close the page, but it's very highly themed.
Marketing Themed Landing Page Templates
You're not taking them off into other areas for them to be distracted. [00:04:00] They're very focused on clicking this link and if they scroll down they prefer to read again, make another here, click the link. And again, we've got another link here. Click the link. we've got another one here, click the link. So again, really highly themed.
And then right at the bottom. An email. So this landing page is as highly themed as you could make it. Cause one of the recommendations is say this item wasn't there. Then they would have to scroll back up. You didn't want people to scroll back up. You don't want them to take any other actions than moving forward with what you want them to do.
So in this instance, we want them to sign up, to join the free training. So every time they scroll down the page, they're given the opportunity to sign up and join the free training. So you can see a highly themed. These are as templates for you to utilise. and there's a whole range of these and they're so easy to add.
Let me just open it up to edit it. [00:05:00]
So any of the great features around this as a landing page builder, everything's drag and drop and the other, , I'll just show you now. So you've got all these featured items here now. So again, these are all template items, which you've just drag and drop onto the screen call to actions, countdown time as dividers.
Yeah, and you just drag them onto the page, that one just drag it on. So he's do use, and then when you want to configure it, you just click over here and the configuration option appear. And then similarly for the, , so as I said, they're all drag and drop. So if I wanted to move that, I could move that down below the video.
So this is the grab handle. So they if I move that down below. So, easy to use. And then if we want to edit the video, change the video, just this code here. This is the YouTube watch code this is the bit after the v equals. So you just change your video code in there to any other video on, so let's do. Okay.
So its either the YouTube be after the slash or after the v equals in the watch link. So if I click that now, [00:06:00] update, you see how easy it is to edit these pages. And on all this text here is editable. Cause again, this is just template, text, for you to use for your landing page. So, and the other great feature.
These pages is they're all mobile, mobile optimized straight out of the box. So when we create these, now you see how this resize automatically now to represent what they would look like on a, on a tablet. So you got a laptop mode, desktop mode, tablet, you got sort of phablet and then, Mobile and automatically it's resized and you didn't have to consider that at all.
When you designing it's doing it all for you. You can override it if you want to, but I think it's easiest mode is to leave it on. And this is so designed for beginners and you've got this expert mode for, when you edit in by default, it's in beginner mode, but you can turn expert mode on if you want to.
Easy Landing Page Templates for Beginners
And, you know, for beginners you leave it off and you all, most of the controls will be within your easy reach there. If you can't find something, then turn it on to have a look for it. So I do really recommend this because it's so easy to use. And so one of the major benefits of this is that they are [00:07:00] highly optimized for speed really quick to load.
And then, the second optimization is around mobile optimization. And the third optimization. These is these pages really easy to edit as well in terms of SEO signals. So you got a highly optimized, fast loading pages. You've got mobile optimized, and then you get SEO optimized so that these are the three biggest ranking factors for the search engines.
And they're all built in. And then that's, without all the marketing integration with products, you get with all of these blocks in here. So because Mike Filsaime the CEO of GrooveFunnels, cause his experience in marketing. He's brought this to bear in all of these features, sort of all of these here are our marketing optimized features.
I like the countdown timers scarcity, the contact forms, you know, in terms of these sign up forms, leading the visitor through the sequence of steps. And the other thing I should mention, so I mentioned earlier, there's a free sign of link and you can sign up for it with no credit card, which is fantastic.
Free Landing Page Website Hosting
But also when you create these pages, when you want to host them, You can also publish them. You get free hosting on them as well. So [00:08:00] you create, this is my domain here funneltips.net GroovePages, where you can see an example landing page. But when you sign up, you create your own domain here for free around your own brand. And then you can host all these on Groove Pages 2.0 for free.
So you didn't even have to pay website hosting. So that's a great feature. You can add your own domain. If you wish to, you can publish on your own domain here, you had your own domain. But I'm hosting landing pages on the GroovePages is fantastic. because you can create a whole sequence of them and you don't have to impact your website at all.
And then you can test out different conversion options on this free hosting then. And it's really fast hosting as all guys. So that's really valuable without the, quality landing page builder. And these are really high quality landing pages. Let me just preview this for you. You see? So we made a couple of those edits there.
Now you can see. Haven't edited the whole page, but you know, that's a really attractive page. And if we want to look at what it would look like in a mobile, let me just shrink this down.
Fast and Easy Landing Page Editing
That's what it looks like on a mobile again, you know, so how quick was that to create, you know, so we didn't have to [00:09:00] do any coding to do any of that. You know, just a little bit of editing and you got some brilliant high quality, high converting landing pages or for free.
And then you got popups, you got entry popups, exit popups, you can create multiple pages, and similar to the way they create the first page. You can use the themes again, templates to create additional pages. And they've also got these other elements that is a sub items. So all of these items are called blocks and these are the sub items.
Then you can create, and drag and drop those also onto your page. So just a quick video here, guys, just to show you how quickly you can create free landing pages. You can check out the link down below.
There is a limited time opportunity to get a lifetime license for the software before it moves to a subscription. Also the free lifetime license version which was offered to the community for COVID 19 support to the business community. Groovepages Lite is the standalone funnel builder and GrooveFunnels included the additional marketing features.
You can sign up to GroovePages Lite for a free lifetime license here.
GrooveFunnels and the Groovepages app are due to move to a monthly subscription shortly so the Groovepages Pro lifetime is currently excellent value if you are considering using more of the marketing features of GrooveFunnels and looking to save money on monthly subscriptions.
Sign up for the lifetime Pro Groovepages 2.0 while it is still available here.